SIELE
SIELE is the Servicio Internacional de Evaluación de la Lengua Española which certifies electronically the command of the Spanish language proficiency for students and professionals.
Is promoted by the Instituto Cervantes, the Universidad Nacional Autónoma de México, the Universidad de Salamanca and the Universidad de Buenos Aires. These institutions guarantee the standards for quality and good practices in the creation of the tests and the use of diverse linguistic varieties in the Hispanic world.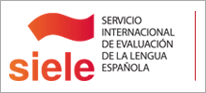 ---
DIGITAL
With SIELE, everything is managed electronically (registration, reservation, notifications…).
AGILE AND FAST
You will receive your certification in a maximum of 3 weeks, where it will be available in your personal area.
ADAPTABLE
You can choose the most comprehensive SIELE Global modality, or any of the 5 independent modalities.
UNIFORM
It is pan-Hispanic and incorporates all the linguistic variations of Spanish.
FLEXIBLE
There are no pre-defined dates. You choose the day, time and place, and exam modality.